About Us
Welcome to Tim Dahle Nissan Southtowne
In late 1957, Cline Dahle, a small-town farm boy, was searching for a way to make a living in his tiny farming community in southern Idaho. Virtually penniless, he decided to pull up his roots and move in with his brother, Larry, and his brother's wife in Salt Lake City and set out to find a job.
Peters UTOCO, a local service station, was just the ticket for his start. Considering the minimum wage in 1957 was $1.00 per hour, his paltry wage of $4.00 per day was an incentive to dream big inasmuch as he had little to lose. After several months of hard work, the service station owner realized his potential and offered him a partnership in the business. Not about to miss out on this opportunity, Cline borrowed $1,400 for 50 percent ownership, with his father as a co-signer. It was about this same time that Cline met and married his sweetheart, Marsha Smith, of Cache Valley, Utah. They moved into a small apartment just a few blocks from the service station. By the end of 1958, he bought out his partner and spent long hours trying to make ends meet.
Cline recalls his life-changing in an instant.
"One day a fellow came by and asked if he could put signup and sell cars out of my station. I asked him what I got out of it and he told me I could sell 'em, and so I did. I stayed on and sold cars out of the service station until 1963 -- five very long years." Cline enjoyed selling cars and cultivated many friendships and business associates during that time but longed for a prime location on State Street.
Mon - Sat

9:00 AM - 9:00 PM




Sun

Closed
Mon - Fri

7:00 AM - 6:00 PM




Sat

7:00 AM - 4:00 PM




Sun

Closed
Mon - Fri

7:00 AM - 6:00 PM




Sat

7:00 AM - 4:00 PM




Sun

Closed
The Next Steps...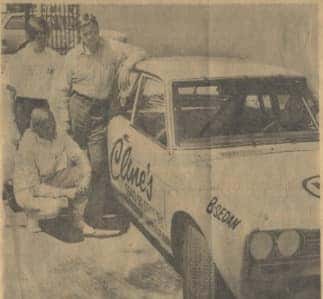 From 1963 to 1967, Cline sold cars from a variety of different locations using a trailer (pictured above) or other owner's facilities until he saved up enough money to buy some property of his own. Of course he needed a building and was promptly turned down by the bank for a loan. Cline and a few of his employees proceeded to build the building themselves, and he funded the project along the way. Now he was on his way and decided he wanted to be a new car dealer. In mid-1967, Cline and Marsha took their life savings of $3,200 and decided to realize their dream.
"I went to California with a cashier's check for $3,200 ... They told me I didn't have enough money or experience. Another guy said, 'A cashier's check, OK.' They took the check, loaded the parts into the back of a car and sent me back to Salt Lake with a BMW franchise," Cline said.
After securing the BMW franchise, he also pursued a Datsun franchise but was turned down. Through hard work and the support of many loyal customers and dedicated employees, Cline's dealership sold 78 BMWs in their first year, making them the No. 1 BMW dealer in the Western Region. Shortly thereafter he went back to Datsun and was awarded the Datsun franchise, which meant he had to relinquish the BMW franchise. Times were tough and Marsha recalls "just grinding through."
The Move to South State Street...
Throughout the '70s Cline's Datsun franchise picked up steam, offering extraordinary customer service and support and staffed with employees determined to do things the right way: Cline's way. In 1971, Datsun introduced the Datsun 240z, which changed the industry. Finally, they had an incredible product and business picked up, which enabled them to buy property near 4500 S. State Street where Tim Dahle Nissan Murray and Tim Dahle Infiniti still operate 40 years later.
Cline ran the sales and day-to-day operations while his wife, Marsha, was in charge of the books and licensing. Looking back on their days of working together, Marsha recalls,
"We were quite a pair. We were just a couple of farm kids who came to a big city and didn't know what we were going to do. We caught a few breaks, met a lot of great people and did what we loved. The car business was exciting and it consumed a huge part of our lives. We loved being around people, whether it was other dealers, employees or our customers. Many great relationships were forged through the dealership. In those days we didn't have any of the technology used today, no computers or electronics of any kind. We used journal ledgers and hand-posted all daily transactions. Back in the day, that's the way it was done. Cline was a visionary who always had a lot of great ideas and I was there for the checks and balances. Cline and I were a great team! "
Tim Dahle, Cline and Marsha's son, shares their passion for the car business and their love of people. Tim currently owns and directs three dealerships in Utah: Tim Dahle Nissan of Murray, Tim Dahle Infiniti and Tim Dahle Nissan Southtowne.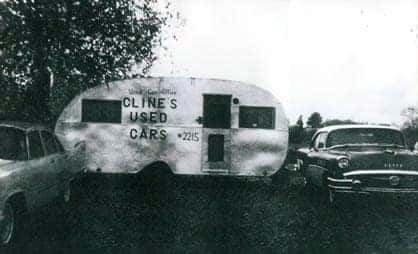 Tim Dahle, In His Own Words...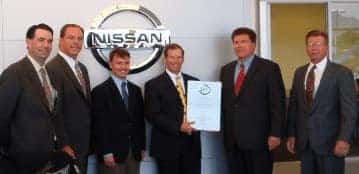 Watching my mom and dad create and cultivate a new business provided me with countless rich experiences throughout my life. I am extremely grateful for the opportunities and lessons learned under their watchful eye. Growing up, we always had some new weird car that no one else in the neighborhood had. During his lifetime, my dad had many franchises which included NSU (don't ask), BMW, Saab, MG, Toyota, Honda, Fiat, Alfa Romero, Peugeot, TVR, Yugo, Isuzu, Subaru, GMC, Buick, Mazda, Datsun (which later became Nissan) and Infiniti.
I worked many hours learning the business from the bottom up, washing cars, sweeping the lot and picking up cigarette butts. I also spent some time in the Service Department changing oil and stocking parts at the dealership. Long before scan guns and computers, we used microfiche to locate parts and hand-wrote repair orders and parts invoices. I learned a lot from the employees (most of it was good, the rest was good to learn what not to do).
At 18, I sold my first car at Cline's Datsun. It was a purple Datsun F-10, which was Datsun's first front-wheel drive car. It was such a rush and so much fun. I decided right then and there what my life course would be and I never turned back. I'm fortunate my dad had the same vision for my future as I did. He directed and guided me throughout the process of dealership management and ownership.
In April 1989, I became the newest and probably one of the youngest Nissan dealers in the country. With the support of so many wonderful customers and dedicated hard-working employees whom I consider to be my personal friends, we have managed to thrive over the ensuing 27 years.
As we have prospered, we understand and believe it is vital for the growth and well-being of our community to give back and share our good fortune. We have participated in numerous fundraisers, which have been extremely successful and beneficial to the needs of others in our community. Some donation recipients include Shriners Hospital, Multiple Sclerosis Foundation, local high schools and higher education institutions in our state, Heart Association, Arthritis Foundation, Utah Food Bank and Boy Scouts of America, just to name a few. Our annual Toys for Tots drive, funded by our employees with their contributions matched by the company, have provided thousands of dollars in toys for children, which is a tribute to all the employees and their generosity.
As we look forward, I'm optimistic and enthusiastic about the opportunities and prospects evolving in the car industry. There are so many exciting new Nissan and Infiniti products on the horizon. Technology, research and development have opened doors we never imaged possible. My wife and I have two sons and a daughter who are looking forward to carrying the torch for another 44 years in one aspect of the business or another. We are extremely proud of their accomplishments and dedication to hard work. I share a love of my country and the State of Utah, and I'm encouraged about the prospects of our future as we all work together with common goals.
Tim Dahle Nissan Southtowne